Patio Furniture is a great addition to any residential home. It's something many homeowners would like to have, especially when they've got the space for it. Building one is a great upgrade to an already beautiful lawn and would serve as a great place to host outdoor activities such as a Sunday barbecue or an afternoon tea party.
Apart from building the actual patio, one thing most homeowners struggle with is how to furnish it. After all, the patio's ambiance is the deciding factor that will ultimately determine its fate. Is it going to be a place where members of the family would naturally want to hang out or is it just going to be another high-maintenance place in the house no one barely uses?
While a beautiful, picture-perfect patio is what everyone wants. It's equally important to make sure that it's a desirable space to be in. You would want it to be a go-to place for your partner or your kids whenever they want to get some fresh air or some sun (check this out). It shouldn't be just another decoration in the house.
This is why in this article, we are going to share some tips on how to select the best furniture that would complement your patio to a T. And to do that, you have to which four things you should be looking at when making your choice:
Material
First things first, you would want your furniture to be made with good-quality materials that are intended for outdoor use. Since a typical patio will have no walls (and sometimes, no fully covered roof as well). Its interior is exposed to a lot of external elements. It's exposed to both rain and sun, wind, and plant debris (especially if you have tall trees in the garden). As well as other things in the natural environment that can cause tear and wear over time.
Choose durable patio furniture materials based on local weather and design for long-lasting furniture. As you can read here: https://www.architecturaldigest.com/story/weatherproof-outdoor-furniture. Usually, hardwood, stainless steel, or high-quality PVC are good materials to use for patio furniture.
Color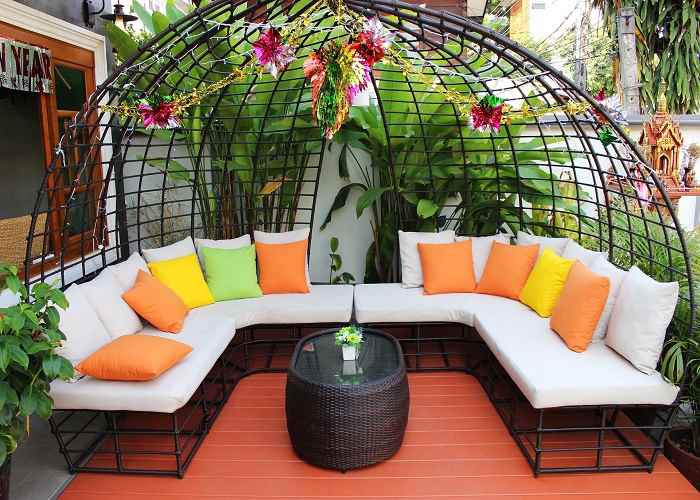 Next is color-coordinating your patio furniture. This goes hand-in-hand with our next point but basically, the colors that you choose for your patio furniture will heavily affect the overall ambiance of your outdoor space.
Generally speaking, neutrals like white, cream, oak, gray, and black can create a sleek and sophisticated atmosphere while also looking very natural. Bright pastel colors like powder pink or blue and aquamarine can lighten and soften the vibe of the space. These colors can also add more feminine energy to the place. Greens, oranges, and yellows can give off warm, fuzzy feelings as they are reminiscent of the fall season.
On the other hand, cool-toned and darker colors can make the space bleak and devoid of warmth so we advise you to stay away from colors that look dim or dull.
Design/Theme
You also have to consider the theme or design you're going for. Luckily, there are many sources for inspiration online, so you don't necessarily have to hire professionals nowadays. Of course, professionals would still have a far discerning eye for these things but if you're someone who really can't afford it or you simply want to tap into your own creativity, then a little research and DIY can go a long way.
You can go for a rustic feel or a cottage-core vibe. There's also the boho theme that tends to be popular among younger crowds. Case in point, it's important to have a theme or design in mind as this will help you select patio furniture sets that feel congruent with the atmosphere you're going for.
Function
Lastly, when selecting patio furniture, it's important to not only focus on the appearance but the functionality as well. As mentioned earlier, you would want your patio to become a space everyone in the family naturally gravitates to whenever they want to relax and have some me time. You get closer to achieving this by creating a relaxing atmosphere and also maximizing comfort. So when choosing furniture, do not compromise comfort and functionality.
And that's it. As long as you keep these four factors in mind, you should be able to select the perfect furniture that will bring your patio to the next level.
As a bonus tip, we'll leave you with this: Go with what feels good for you. Never mind the guests who will be coming over, the relatives visiting, or whoever else that you plan on showing your newly furnished patio to. They're not going to be the ones using the space for a long time. Instead, choose your furniture according to the preferences of those living inside that house – you and your family. It's your comfort that matters most.